"So what exactly am I paying you for?"

The decision to hire the right movers is an important one, and Perry Moving and Storage is pleased to give you the details on what exactly you'll be getting with our service. While it may seem tempting to try and cut corners by finding your own truck and calling in a few favors with friends to help get things loaded, the difference in quality and reliability that comes with a reputable professional service is well worth the cost.
Professional Packing, Equipment and Insurance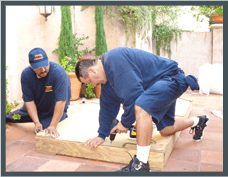 Our knowledgeable staff facilitate moves on a daily basis and are highly trained in the art of keeping your possessions protected throughout every stage of the job. We wrap all of your furniture and other valuables in reusable moving pads and industrial strength cellophane before they're out the door, and secure these items within our moving trucks using heavy-duty adjustable straps to ensure safe transport. All of the trucks in our fleet are equipped with deployable ramps or hydraulic lifts, and our crews come prepared with dollies and hand trucks to make loading and unloading as efficient as possible. We provide free basic standard coverage for every item we touch and transport, as well as offer more comprehensive affordable insurance options if additional protection is desired.
Easy One-Trip Transport
Few people have the ability to fit all of their possessions into even the largest SUV on the market, and we're committed to saving you the trouble of time-consuming shuttles between your past and future places of residence. The vehicles in our fleet range from small efficient vans to full size tractor-trailers, and allow us to arrive at almost any job capable of transporting everything you want us to move in one smooth and simple trip. Our drivers have decades of professional experience behind the wheel and outstanding safety records, and take extra care to ensure all of your items arrive quickly and free of damage.
Additional Services
At Perry Moving and Storage we believe our job is done when YOU are a hundred percent satisfied. No matter if you want to save money by unpacking yourself or take advantage of the strength of our crews to every one of your possessions fully set up in it's new and proper place, our friendly and helpful staff are happy to oblige. Let us know in advance if you would like assistance with related tasks such as cleaning or furniture assembly, and we'll be sure to arrive with the right tools for the job.
And Beyond…
The above is just the basics. Words cannot do justice to the enthusiasm and capabilities of our staff, and we're happy to take on any challenge or opportunity you happen to throw our way. Feel free to email us with any questions or concerns, and know we look forward to serving you!