Professional Packing & Crating
Perry Moving professionals learn and practice the best techniques to pack and move your valuables as safely and efficient as possible.  Perry Moving and Storage wraps all of our customer's items with the highest quality padded  materials for added extra protection.  After wrapping, we use protective packing boxes and the necessary equipment to protect all of your items.
Staging your home for sale?
Downsizing or between homes?
Running out of room for your holiday or seasonal items?
"We are small enough to care and large enough to move you and your family – no matter the circumstances."
Packing Tips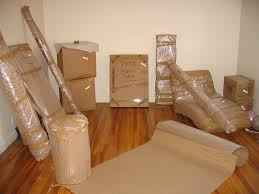 Setting up the workstation:
A suitable and comfortable workstation should always be employed to prevent fatigue and strain during the packing portion of a moving job. A kitchen or dining room table maybe used for this purpose. This is much easier than bending over and working off the floor. Always cover the table with a furniture pad or old blanket before placing any paper or items on the exposed surface.
Assembling the moving box:
A moving box should be assembled by folding the top flaps down using the small tabs to hold these flaps along the box sides. Next, the box should be "squared up." The bottom flaps are then overlapped and taped in place. Always use packing tape–do not simply interlock the bottom or top flaps.
There are three ways to tape an assembled moving box:
Use three strips of packing tape, making a cross on the top and bottom;
Put one strip down the middle seam, adding a strip along each of the two side seams;
Use three parallel–but not overlapping–strips on and along the middle seam.
Identifying the box:
The packed and sealed moving box should be clearly marked on at least two adjoining sides with the contents of the box and the room where the moving box should be placed at the destination. As much as possible, mark the contents of a box on its sides rather than on its top. This will make it easier to identify the contents for each box at the new residence.
Clearly mark moving boxes that must be kept on top with arrows or "Top Load Only," indicating that the box will remain on top when stacked in the truck. These markings should be used sparingly and judiciously only for boxes containing the most delicate items.
Lamps and Lampshades:
Never pack a lamp and its shade in the same moving box. A lampshade should be removed from its lamp and packed in a box using plenty of cushioning material on the top, bottom and sides. For cushioning use crumpled newsprint to protect the shade. Lampshades can be packed in 1.5, 3.1, 4.5, or 6.1 cubic foot size boxes. Do not over pack the box with cushioning material that could potentially damage the lampshade. Always box lampshades. All fabric and delicate lampshades must be boxed individually. (Note: Some silk lampshades may have to be protected with "special" cushioning.)
Before packing the lamp, remove its harp and light bulb. Pack these parts together using white newsprint. The lamp itself should be wrapped in brown paper pads, bubblekraft or bubblewrap. The lamp and its parts can be packed either in a lamp box, dish pack or other suitable moving box.
Multiple lamps may be packed together. When packing fragile lamps or other items together, always place cushioning materials around all the items to protect against shifting in the box.
Remember: use "bumpers" (rolls of crumpled white newsprint) to make a base of cushioning three to four inches thick at the bottom of the moving box. Finish off a packed lamp box with bumpers if the lamp(s) requires it. When loading the truck, pack lamps in an upright position when possible.
Paintings, Mirrors and Pictures:
Perry Moving offers an assortment of corrugated boxes to accommodate paintings, mirrors, wall hangings and flat glass.
As a rule, based on the thickness of the frame, two pictures / mirrors can be packed in a "picture / mirror" box. Multiple, smaller pictures / mirrors can be wrapped in a single paper pad, bubblewrap or bubblekraft. Each picture / mirror must be insulated from one another. Never put unprotected items into any moving box. When packing pictures / mirrors, keep the glass face-to-face, with the backs against the outside of the boxes. A piece of cardboard can be placed between the glass for added protection. Use a box size that fits the pictures / mirrors.
After setting up the "picture / mirror" box, begin once again with crumpled newsprint paper or bumpers on the bottom of the box to act as a cushion. After the item is placed in the packing box, add additional newsprint paper along the sides and top to prevent any shifting. A properly packed box will have no movement inside. Label the packing box with its contents and room destination.
Small Appliances:
Brown paper pads may be used to pack heavier and larger items such as countertop appliances. They should be placed in 3.1 cubic foot moving boxes for easier handling. If a brown paper pad is too large for an item, cut the sheet in half. Keep all appliance parts together in the same box.
Keep in mind, larger moving boxes can quickly become extremely heavy: try lifting a box before you seal it with tape to make sure that its weight is manageable.
Televisions, Computers and Stereos:
Before moving or packing any televisions, tape the front control panel closed. Remove or recess fully the antenna. Keep careful track of remote controls to any electronic devices, as these items are often misplaced during a move. In most cases, the cable television remote and the cable box must be returned to the local cable company. They should not be packed or moved.
Coil and tie/tape the electrical cords on all appliances. Tapes and CD's should be removed from electronic equipment before being prepped or packed.
If you don't have the original factory packing for your expensive electronic equipment, you should not attempt to move the items yourself. Consult a professional mover for further guidance.
Never pack flammable items…matches, sterno, aerosol cans
Pots and Pans:
Always wrap pots and pans before placing them into moving boxes. If the newsprint is not large enough to properly cover the piece, overlap two or three sheets of paper. When possible, "telescope" or "nest" pots and pans together to efficiently utilize space. Lids should always be packed in the same moving boxes as the pots and pans they belong to. Pots and pans should always be packed in the 3.1 and 4.5 cubic foot size boxes.
Food:
Non-perishables can be boxed in 1.5's or 3.1's. Make sure all box and bottle tops are secured before packing them. Generally, there is no need to wrap food boxes or plastic bottles in plain newsprint paper. Use crumpled paper only to prevent shifting inside a packed box.
Perishables from the refrigerator should be placed in a cooler on the day of the move.
Wine:
Use the 1.5 cubic foot box to pack wine. Like all other "fragile" boxes, cushion the bottom of the 1.5 with bumpers. Wrap each bottle in several pieces of newsprint and lay it on its side in the box. This prevents the cork from drying out, especially if your wine remains in the packing boxes for a while in your new home.
Dishes, Plates, Glasses and Fine China:
Use a "dish pack / china barrel" for china and other fragile items. The dish pack box is a double-wall box; all other boxes have single-wall construction. Multiples of similar plates, saucers and bowls can be wrapped together in one bundle. Use the paper-plate- paper method to wrap 3, 4 or 5 dishes together. Wrap the complete bundle tightly in newsprint; then tape it closed. This keeps it from unwrapping. Plates, bowls, platters and other flat items should always be packed vertically on end to prevent breakage in the event a box is dropped or jarred. Never place these items horizontally in a moving box.
The first or bottom tier of the dish pack should be comprised of heavier items such as large plates and platters. The second tier can include bread plates, saucers and soup bowls. The top tier should be reserved for glasses, cups or stemware. "Bumpers" must be placed above and below each tier.
Glasses and Stemware:
For a glass or piece of stemware, initially wrap each piece loosely in a sheet of newsprint. Then, wrap the item more tightly in a second sheet. Glasses and stemware should always be stood on end in the dish pack. A paper collar is sometimes employed to provide additional support around an item before loosely wrapping it in a sheet of newsprint.
Stuff some crumpled newsprint inside a glass vase or pitcher to provide support to its sides. A fragile piece like this should be wrapped in bubblekraft or brown paper pads and packed in the top or second layer of the dishpack. Before sealing the moving box, put a layer of cushioning material on top of the glasses. However, be aware of overdoing the cushioning on the top of a box that contains extremely delicate stemware. The extra "protection" on the top of this type of a box may actually press down too much into the box, placing unnecessary and excessive pressure on top of the stemware.
Do not be afraid to use extra paper when wrapping an item! Paper may seem expensive, but it is less expensive than replacing your fragile belongings!
Always keep the tops and bottoms of ceramic cookie jars or teapots together in the same bundle. If there is the possibility of an item being damaged, wrap them separately but pack them in the same packing box. Small glasses can be wrapped and then placed inside larger jars, canisters and vases. This may seem like extra work, but is actually safer for the smaller items.
Books and Magazines:
Books should be packed quickly. A 1.5 packing box must be used. Start with the top shelves of bookcases to prevent toppling. Books should be packed horizontally. Use newsprint to fill out any empty space rather than search for the "perfect" book. A packed book box will weigh an average of about 40 to 50 pounds. If this is too heavy for you to carry, you may wish to fill boxes only part way with books, filling the remaining space with newsprint.
Magazines may be stacked flat or on edge in a 1.5. Fill out unused space with crumpled newsprint paper.
Files – Lateral and Vertical:
The contents of all the drawers of a lateral file should be emptied and packed into moving boxes. The bottom two drawers of a vertical file do not have to be emptied, but all remaining drawers must be emptied into boxes. When packing the contents of file drawers, careful consideration must be made to keep files in numerical and / or alphabetical sequence.
Record Albums:
Record albums should be packed standing up in the 1.5 cubic foot box. Use crumpled newsprint to complete a box that has some unused space.
Clothing:
Clothing such as sweaters, shirts, bed and bath linens should always be packed in the 3.1, 4.5 and 6.1 cubic foot moving boxes. Comforters, pillows and any light bulky articles can easily be packed in the 6.1 cubic foot moving boxes. After the box is assembled, line the bottom of the box with newsprint. Neatly place the clothing or linens into the boxes. Never jam or overstuff clothing into the box. This could result in time-consuming ironing after you unpack. Place a sheet of newsprint on the top of the filled box before sealing it.
Wrap accessories such as belts and handbags in newsprint before packing them. Always try to pack items in neat bundles. If not in their original boxes, expensive, designer shoes should always be wrapped in newsprint, keeping pairs together.
Pack hanging clothing into stand-up wardrobe boxes. The wardrobe measures 18x21x48 inches, and has an aluminum bar that spans two sides. The clothing is left on hangers and neatly hung on the bar. Do not overstuff the boxes, and do not pack anything in the bottom of the box.